Bright Colors And Bold Patterns is ridiculous.
You might recognize your new favorite comedian Drew Droege from his Chloë Sevigny parody YouTubes or from his long list of television credits. In his new Off-Broadway one-man show, he plays the gay everyman: irreverent, loves margaritas, and uses his sense of humor as a defense mechanism to avoid emotional situations...but, boy, you'll be so glad he does. Drew himself wrote the show and everyone's BFF in their minds Michael Urie directs. This show is so funny, so well-performed, and such an overall delight that it leaves you wondering how they pulled it off!
Our hero Gerry is invited to a gay wedding in Palm Springs, but the invite states that guests should refrain from wearing bright colors and bold patterns. Well...not today, Satan! The last thing in the world Gerry is about to do is put on some navy slacks and go kiss the asses of his friend's blah fiancé, his pretentious mother, or his drunk-white-girl sister.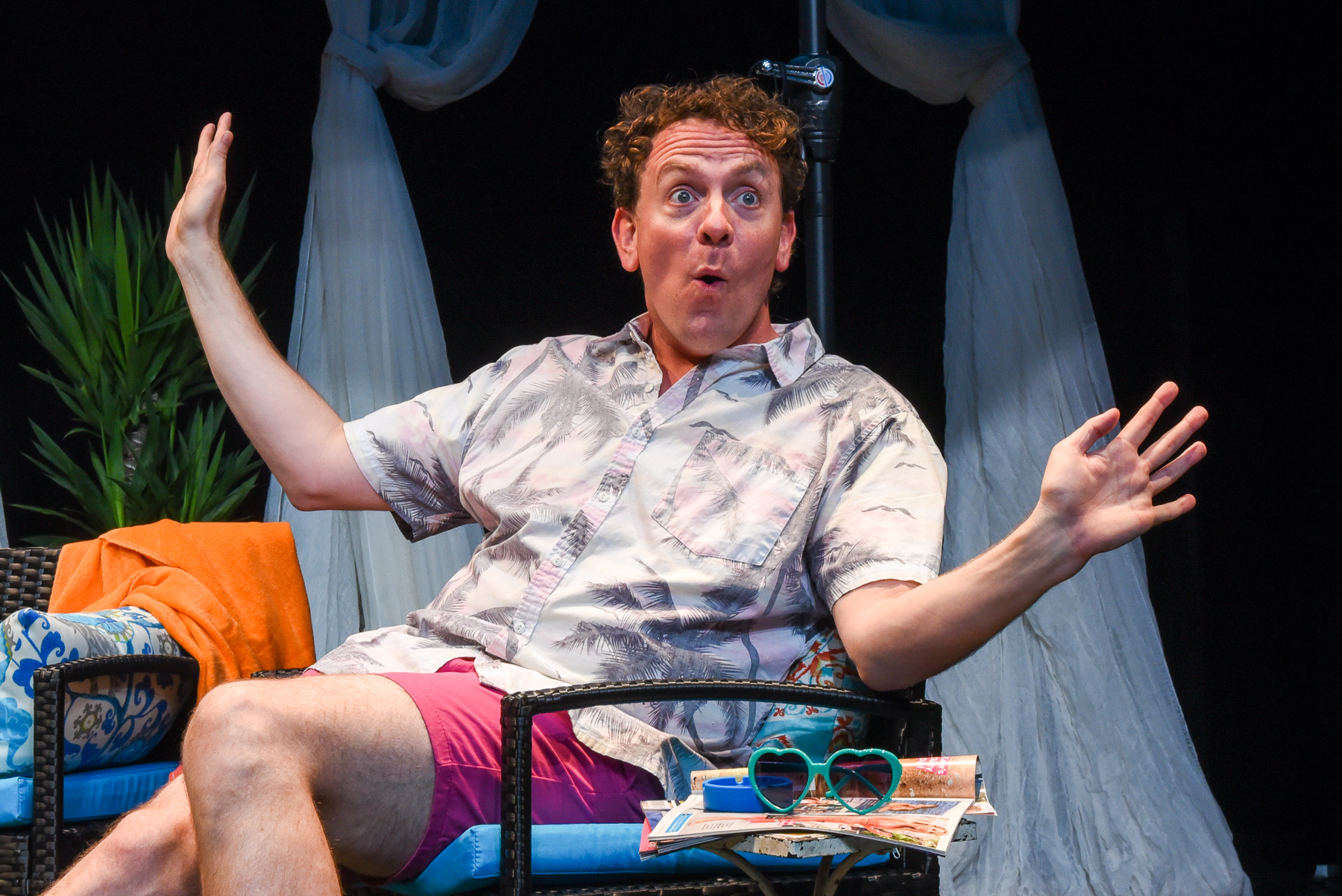 Photos: Russ Rowland
You'll be rolling in your seats with laughter watching Gerry deal with the situation he finds himself in, but that situation is ultimately heartbreaking and poignant...not an easy feat to pull off when his margaritas are never more than half empty, the quips are flying out of his mouth a mile a minute, and he gets stuck for a solid two minutes describing a Lifetime movie he saw once starring Rita Wilson as a suburban mother who has an imaginary third child. The play ends up feeling like a therapy session for Gerry, but the real genius lies in the fact that it's actually a therapy sesh for us as the audience.
Yes, yes, and more yes to Bright Colors And Bold Patterns. Buy tickets right this second to this triumphant and delicious piece of theater!
Check out this video of Sam going to meet Drew and learning even more about the show. The duo Google "bad wedding invitations" and things get wacky really quickly!